EvanMiya.com Game Predictions Strategy
This article gives a summary of the EvanMiya.com Game Predictions algorithm, notes the performance of past game predictions compared to public Vegas lines, and presents an approach for knowing in which cases our game predictions have an advantage over Vegas.
Our game predictions are based on many variables, including each team's offensive and defensive strength according to our advanced statistical model, home court advantage, expected number of possessions in the game based on each team's estimated tempo, uncertainty in how each team will perform, and, for all games occurring in the near future, adjustments for current injured players.
Backtesting
For every season going back to 2015-16, we started out by creating preseason projections as if the season had not started yet, and then day by day predicted each slate of games to mimic what our game predictions would have been at that time. One caveat worth noting is that there was no injury adjustments in these historical predictions, which means that these game predictions perform slightly worse in this experiment than they will in future games when we have current injury information.
The table below shows the mean absolute error and bias for spread and over-under predictions for each season:
The spread predictions are much better than the over-under predictions, which is not a huge surprise considering that we have spent way more time fine-tuning the spread predictions model.
Comparing to Vegas Lines
We also imported historical Vegas lines at the time of the start of each game in order to compare to our own game predictions. For the 2020-21 and 2021-22, these lines come from Caesar's Sportsbook, and for previous seasons they are an average between TeamRankings and NumberFire based on what was available for each game. For some of the earlier seasons, we were not able to get Vegas lines for all of the games, but the majority are still included.
The table below shows all Against The Spread (ATS) results for our predicted game spreads across all seasons, when compared to Vegas:
We are not including any over-under comparisons to Vegas because we don't think they are as valuable.
The table below shows (ATS) results for our predicted spreads, for each season individually.
Determining "Best Bets"
Based on analyzing the performance of all historical game predictions against Vegas lines, we developed a "confidence score" for each game, which is a measure of how confident we are that betting against the spread will win. All games with a confidence score of at least 1.0, we deem a "best bet". Just like before, we back-tested the performance of these best bets to see how they would have performed historically using only the information available before the game started.
The table below shows the overall ATS performance of the "best bets" vs Vegas lines across all seasons:
The table below shows the overall ATS performance of the "best bets" vs Vegas lines, for each season individually. Each season's bets had a positive Return on Investment.
Digging a Little Deeper
The main way that our game predictions have an edge over Vegas spreads is early in the season when there is more uncertainty about how good each team is. Our cutting-edge preseason projections, which incorporate a whole suite of advanced player projections based on individual impact, lead to a smarter prediction model than Vegas, especially early on in the season. The histogram below shows the number of games chosen by our best bets model as the season progresses. You'll notice that we pick a lot more games in the first month or two of the season.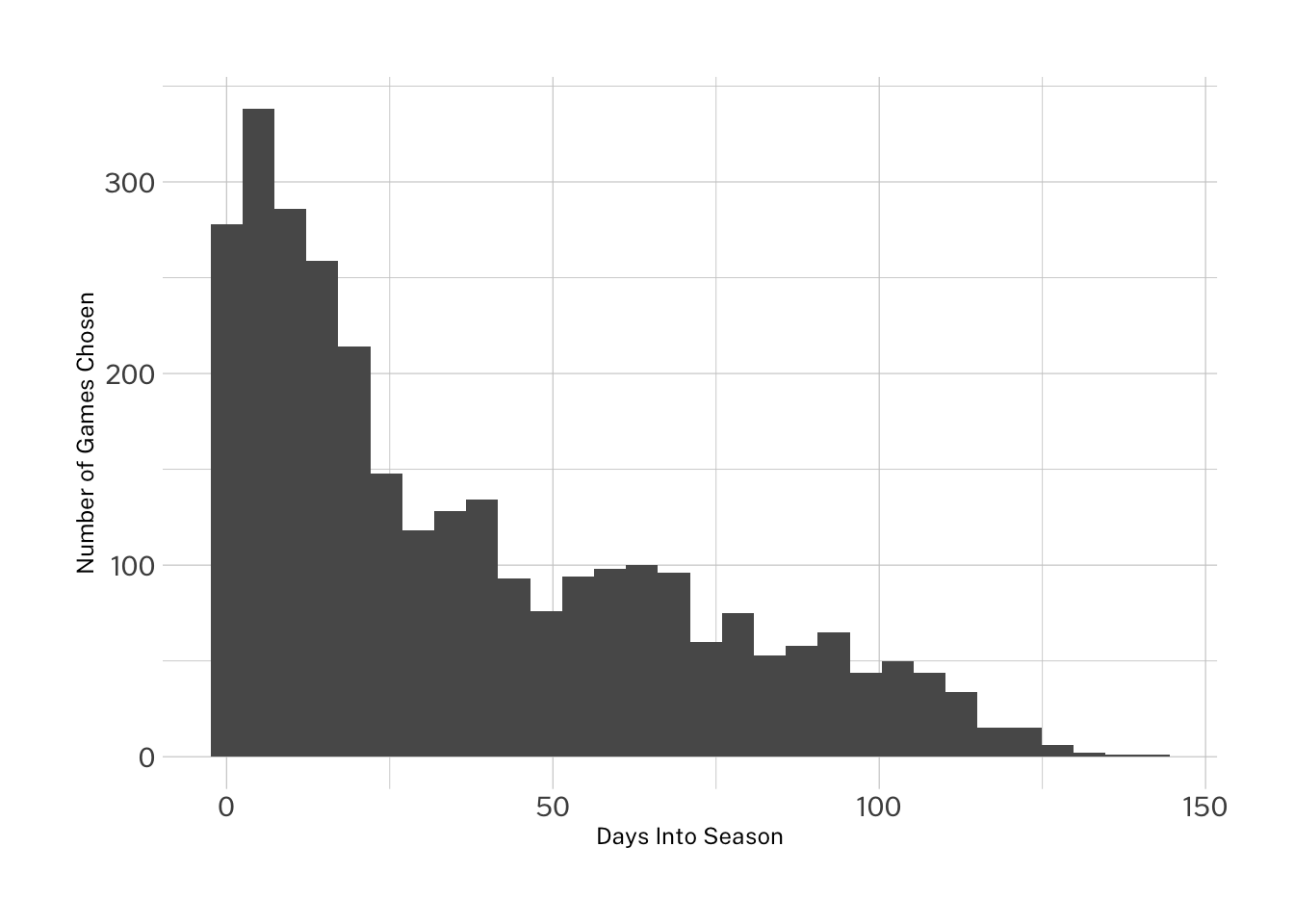 As the season progresses, it becomes easier for Vegas to know how good each team is because we have more of a sample size. This means that by the end of the season, there isn't as much of an advantage for our game predictions because the differences in how our model evaluates each team compared to Vegas get smaller.
The graph below shows how the best bets model has performed versus Vegas in terms of ATS Win %, based on how many days into the season the game predictions are happening. The black line is 50% and the blue line is 52.4%, the break-even percentage for -110 odds, which are typical. Confidence bands are included to capture 90% confidence intervals around each percentage.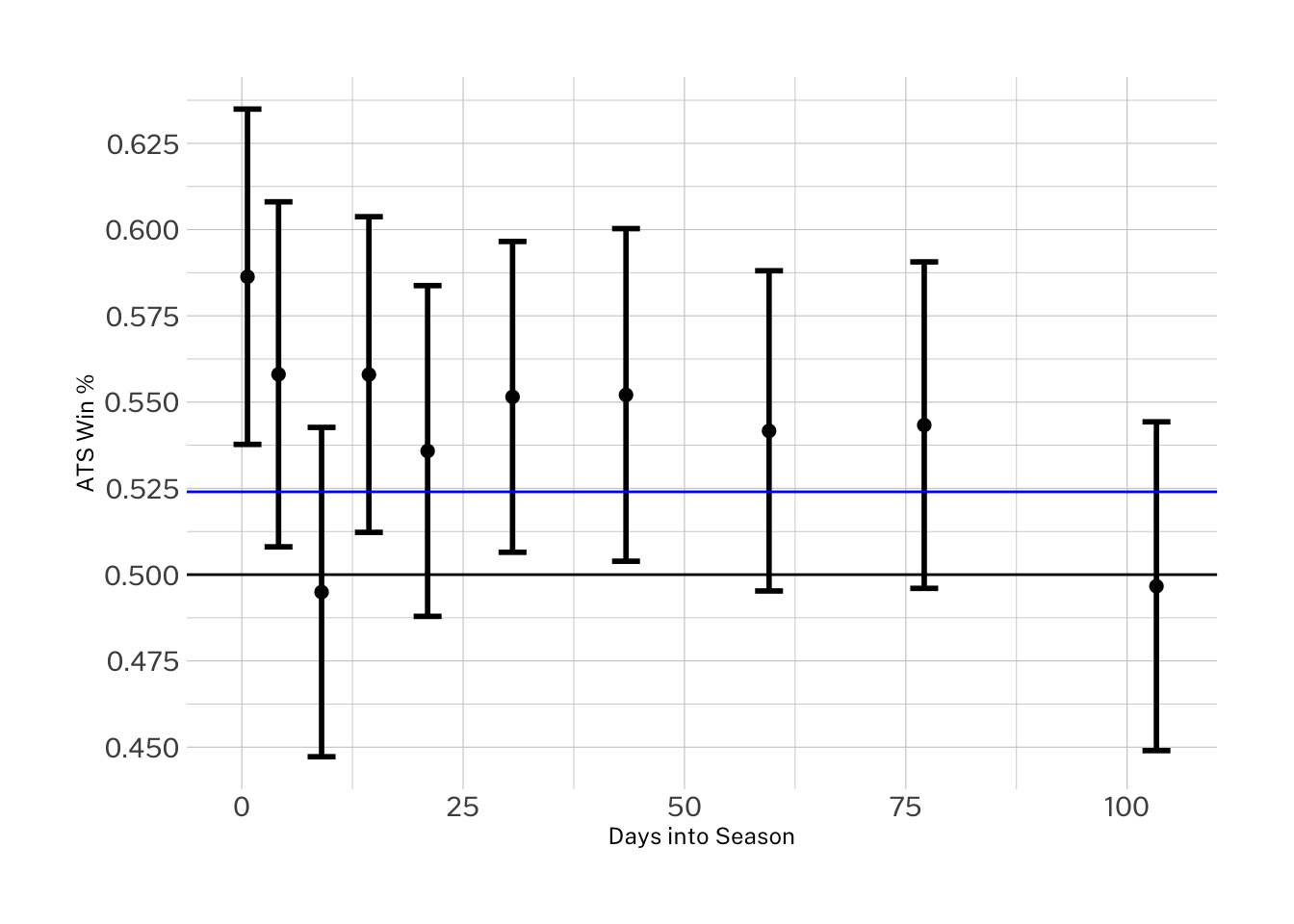 If we were to have placed one betting unit on each game recommended by the "best bets" model over all seasons, the plot below shows the average rolling betting units gained as the season progresses. This assumes standard -110 odds for all bets. When averaging across all seasons, this would have led to slightly under 15 units gained by the end of the season.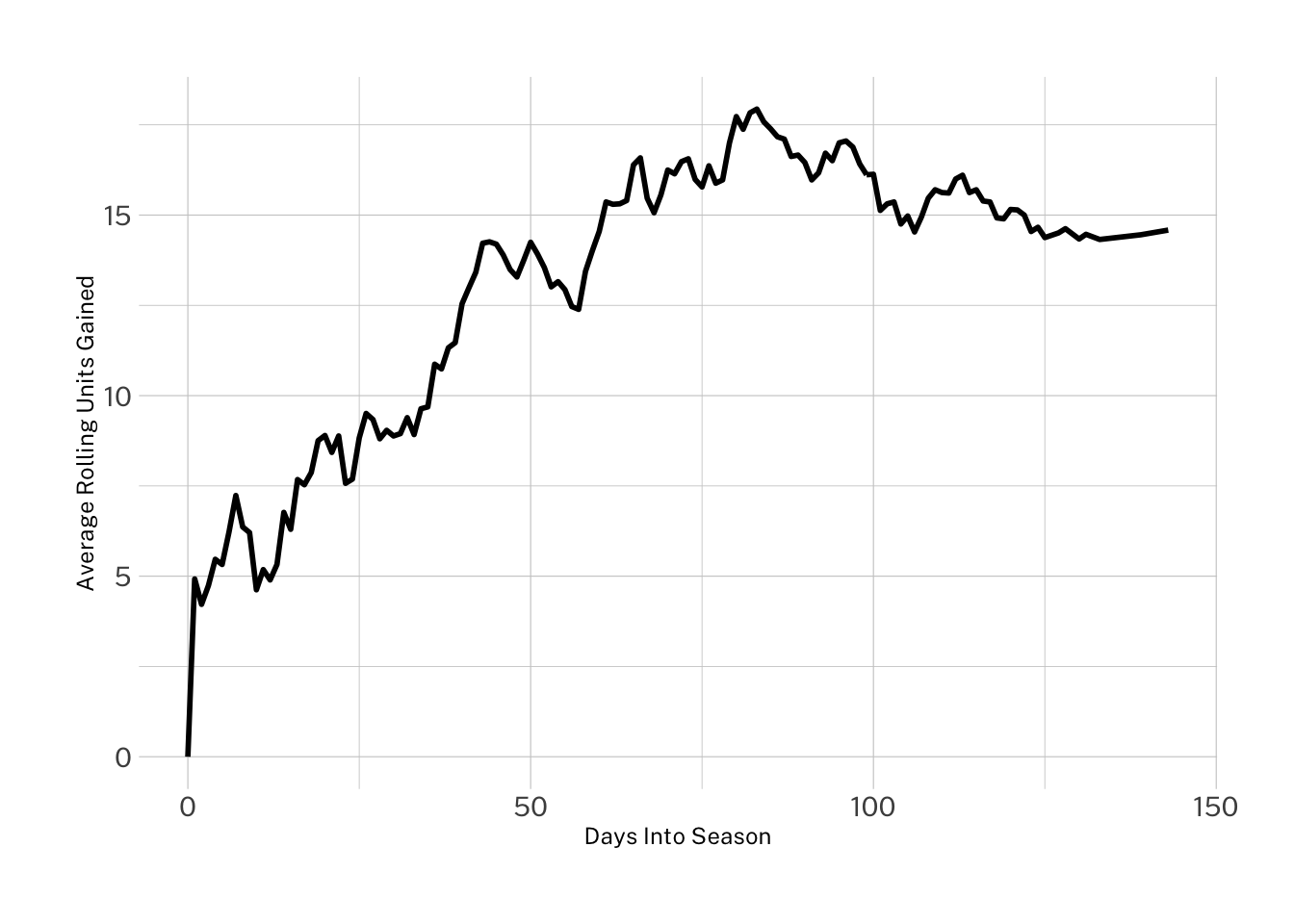 The plot below shows the rolling units gained for each season, with the pink line representing the average of all the seasons: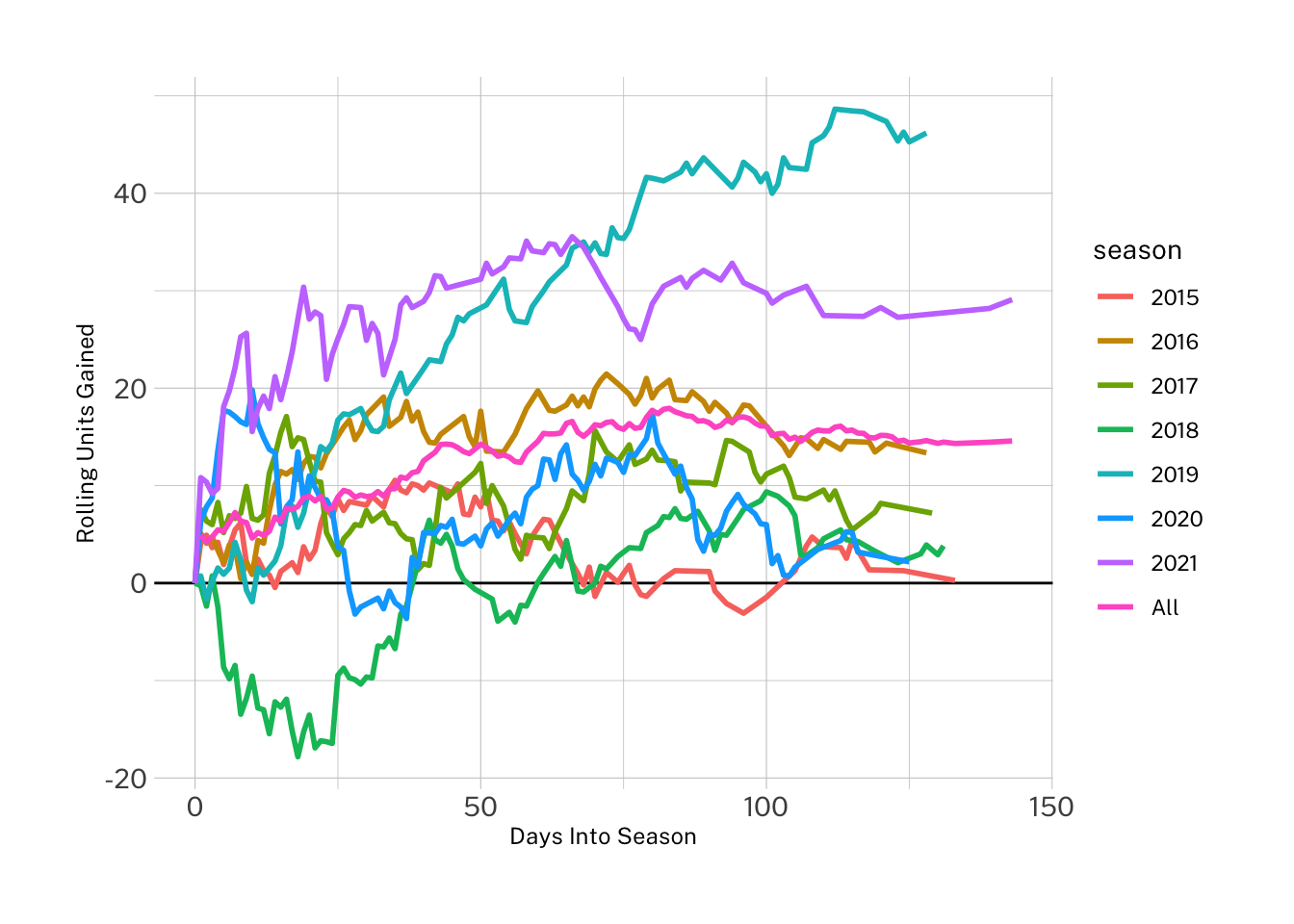 Final Thoughts
These results from historically testing the best bets model are encouraging, especially when you consider that this experiment does not utilize injury reports for any of these games. Making injury adjustments for future games will only make the model performance even better.
Full Historical Dataset
Finally, we have made the full historical dataset used for this analysis available here.